Tennis Success
Our school tennis team are through to the Munster final after a very close win against Monkstown, Cork. The players were at their competitive best and the match went down to the final game, with Ennis winning in a heart stopping  tie break!
This is the first time in 22 years that an Ennis team have made it to the final of the Munster Cup. We wish Mia, Conan, David, Caoimhe, Kalum, Aoife continued success.
The pupils all play together in Ennis Tennis Club.  The club are hosting an Open Day on May 12th.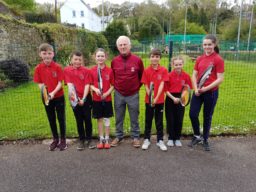 Back