School Band Visitor
This year 4th class fiddle player Norah Rogers joined the band, having just moved here from Kentucky, USA. As we were practising Marine's Hymn for the School Band Spectacular, Norah told us that her dad had been in the US Marine Corps years ago. We invited him to come in and chat to the band about his experiences, which he did last Tuesday.
Keith told us about the tough training programme which the young person must go through. The Marine Corps is the smallest division of the US military. The person himself or herself chooses which branch to go for – army, navy, Airforce, marines, etc. He was a college student studying history when he applied for the Marines and they paid for some of his tuition once he had been chosen and enlisted with them.
Keith talked about a strange experience he had while on a training camp in the desert with other marines. They noticed that things in the tent were shaking and they ran outside. All around them the desert sand was moving in waves like the sea. It stopped after a while and none of them was hurt. They heard later that it had been an earthquake and that there had been fatalities in the nearest city. Unsurprisingly, Keith has a dislike for sand since then.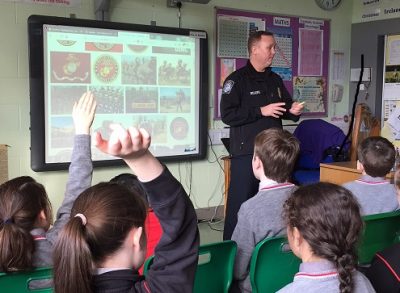 He told us about the different duties performed by the Marines and the different uniforms they wear. He was surprised at all the questions the pupils wanted to ask him. Keith now works with the US Customs and Border Protection at Shannon airport and is delighted to be posted to Ireland for a few years. He likes it so much here that he has suggested to some of his friends that they come over too.
Back