McCullagh Shield Winners 2018
Well done to Ms. Moran's 5th class who have won the McCullagh Shield for this year. This inter-class competition between the three 5th classes involved everything from sports to art to handwriting and beyond. It creates great friendly rivalry between the classes.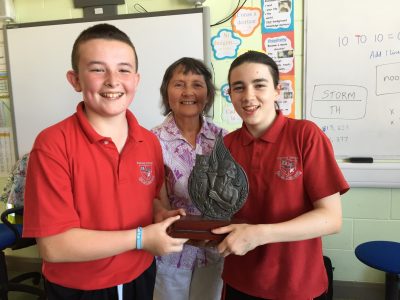 The Shield was presented to Katelyn & Cathal on behalf of Ms. Moran's class by Mrs. McMahon, acting deputy Principal.
We are delighted that Ms. Moran has won as today is her last day in our school as she begins her retirement. Hard luck to Mr. Griffin & Mr. Vaughan. Better luck next year!
Back