Health Awareness Week + Fun Day
Next week promises to be a very exciting week for the pupils of Ennis National School. It will be our annual Health Awareness Week.  To finish off the week we will have our extremely popular Fun Day.
To launch the week, we have John Burke, first Clare man to summit Mount Everest, coming into Ennis National School to tell us about his epic journey to the top of Mount Everest. This was an extraordinary accomplishment and he will tell his amazing story to 4th, 5th and 6th.
Later in the day, we have John Eustace, who runs Clare Jiu Jitsu Academy, coming into us to give the children a little taster of Jiu Jitsu.  He will also continue this on Tuesday.  Also on Monday, we have Kelvin Harold, who is a nutritionist with the Clare Senior Hurlers, talking to the 4th, 5th and 6th classes about good nutrition and how important it is for your body.
On Tuesday, we have Eimear McCarthy, a qualified yoga instructor, booked in to do some yoga and relaxation techniques with the children up to 4th class.  If any child has access to a yoga mat, they should bring it in on Tuesday. Also on Tuesday, we have Rachel Culligan who is a qualified chef lending her time to demonstrate to the children how to make some healthy, tasty snacks.
On Wednesday, Ann Marie Darcy from Tennis Ireland will introduce the children to the game of tennis which a simple introductory class.  Tennis is becoming very popular in our school and we want to encourage this. On the same day, 5th and 6th class will be taking part in a cycle around Ennis as part of National Cycle to School Day. Roisin Garvey is An Taisce Green School's Travel Officer and she will oversee this event.
On Thursday, we will have our eagerly awaited for Irish Culture Day.  On this day, we will celebrate our Irish Culture through song, dance and music.  It promises to be a great day.
Friday is Funday!!! The children are really excited about this day as there are  races, obstacle courses, bouncy castles, dance zone, fitness zone and of course ice cream!!! This year we are going to have a short community walk around Ennis where we will encourage parents to take part in.  This will be the last event to finish the day.  I have included a timetable for you to view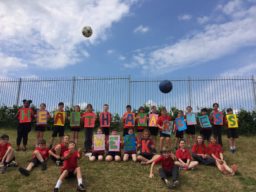 Back