Clare Crusaders Fundraiser
This week we took a visit to the Clare Crusaders Centre in Barefield to present them with a cheque worth €1500.  This was the proceeds from the raffle we held during the Christmas Concerts.  Your generosity is greatly appreciated by the school and the Clare Crusaders.
Clare Crusaders Children's Clinic provides free therapy and specialist treatment to over 450 children with special needs in County Clare.
They are a self financing service.  The Clinic receives no state funding and must raise over €250,000 per annum to provide the current level of therapy for children.
The Clinic was opened in 2007 thanks to the dedication and hard work of a group of parents to overcome the lack of publicly available treatment for children with autism and cerebral palsy.  It was a community response to the lack of access to services that children with disabilities need in order to meet their potential.
They started with one therapist and now they employ 9 staff members delivering approximately 200 hours of therapy per week, catering for over 40% of children in County Clare with special needs.
The Clinic is managed on a voluntary basis and they do not charge for access to the therapists to ensure that anyone can access our supports.  We are very lucky to have the Clare Crusaders attend Ennis National School on a weekly basis and give some children much needed access to a speech and language therapist.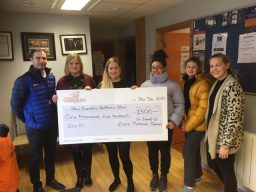 Back