RTE News2day Crew Visits The Reading Class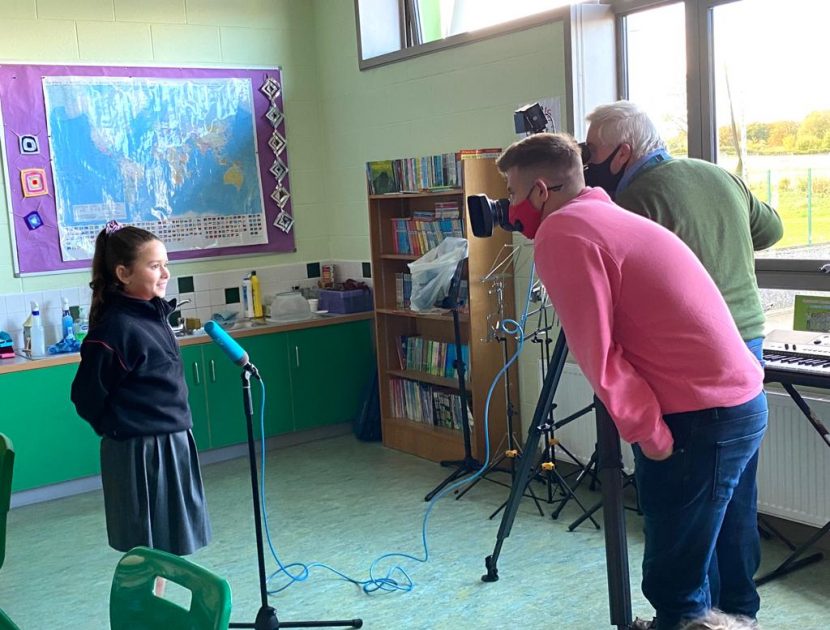 When the RTE's news2Day heard about our new Reading Therapy Dog, Daisy, they immediately wanted to feature her on the programme. News2day is a news programme for young people. It is filmed in schools all over the country, primary and secondary, and the focus is all on the students. It also includes news stories from around the world.
News2day presenter Mícheál Ó' Scannaíl and cameraman Jim Wylde arrived at the school on October 8th at 10 am. Once they had met the class, the first job was to film Daisy arriving at the school. Many thanks to the Hassett family for bringing her along for us. Then they recorded all of the children reading to Daisy.
After that, Mícheál interviewed some of the children individually. He asked them about dyslexia and about how reading to Daisy made them feel. Conan, Nicola, Oisín, Daniel and Ciara did very well despite some nervousness. They described how frustrating reading can be for them and explained how Daisy made them feel more relaxed and they could then read more fluently. She is a lovely, unjudgmental listener and will always lick you even if you make mistakes !
At the end, for fun, they filmed Daisy running out the door of the classroom. She unexpectedly shot in the door of Ms. Hehir's class next door, giving them quite a surprise !
We knew that not everyone could be interviewed but, as Mícheál promised, we all appeared on the screen. Once the programme has aired on RTE2, it will become available on the RTE player so that our friends and relatives around the world (yes Gabriel, especially in Brazil … ) can watch it too. Great excitement !
We are very proud of our Reading Class pupils – Eimear, Jorja, Chelsea, Nicola, Ciara, Daniel, Gabriel, Oisín and Conan – and of our superstar Daisy, of course.
Back to Results