Pack your bags!! We are going to the Netherlands on our 3rd Class Virtual Tour!
Get your lunch ready because we are heading on our school tour!
You may want to get some egg waffles or you may want to have chips with mayonnaise or  Fritessaus as the Dutch call it! Why not have your chips and mayonnaise in a newspaper cone like the ones you can get on the streets of the Netherlands or maybe you would like to make some Dutch baby pancakes to have on your tour.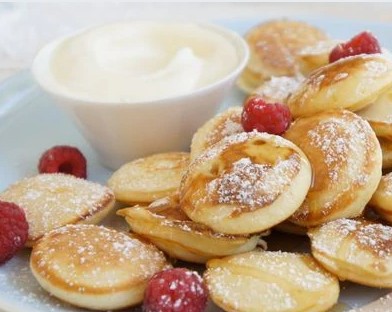 Dutch Baby Pancakes
Also known as poffertjes, these lovely little morsels are very addictive and lovely served piping hot with maple syrup, icing sugar and a beautiful vanilla ice cream. Be careful though as one serve is never enough!– AngelDust
Ingredients
2 cups self-raising flour sifted
2 tbs caster sugar
1 pinch salt
1 cup milk
1/2 cup water
3 eggs
1 splash maple syrup *to serve
1 pinch icing sugar *to serve
1 scoop vanilla ice cream *to serve
Method
Combine flour, sugar and salt into a large bowl.
Add milk and water, and mix with an electric mixer until smooth, scraping sides if necessary.
Add eggs and mix until combined and smooth.
Heat poffertje pan and lightly grease indentations.
Add the mixture until holes are full.
Cook for a few minutes, then turn over.
Poffertjes are cooked when they are golden brown and puffy.
Remove from pan and drizzle with maple syrup, icing sugar and ice cream.
Serve immediately.
Tour of Amsterdam
Let's visit the Van Gogh Museum
Van Gogh
Art/ Let's draw Van Gogh's Starry Night
Another Dutch Museum – A Virtual Tour
Rijksmuseum, Amsterdam
Click on the link to virtually walk around the museum!!
https://artsandculture.google.com/streetview/rijksmuseum/iwH5aYGoPwSf7g?hl=en&sv_lng=4.885283712508563&sv_lat=52.35984312584405&sv_h=291.1699875145569&sv_p=-5.924133903625474&sv_pid=fOVcUXQW2wpRf33iUmxEfg&sv_z=1.0000000000000002
Anne Frank
Let's visit Anne Frank's house in Amsterdam
The Netherlands is Famous for it's windmills . Lets visit one.
Build a wind-turbine
Make a pinwheel
The Netherlands is famous for its tulips, so we are going to visit some tulip fields.
Let's make some origami tulips.
We hope you enjoyed your tour. Please send any of your crafts or art activities on to your teacher.
We hopen dat je de tour leuk vond!
Back