Ms.Harding's 3rd Class Volcanoes
This week we have been learning about different types of rock. We have also learner about Volcanoes and the ancient city of Pompeii which was destroyed by a volcanic eruption nearly 2000 years ago. Archaeologists have uncovered the remains of the city and their work has allowed us to see what an ancient Roman city was like.
On Friday we designed and built Lego volcanoes and created a chemical reaction to mimic an eruption. We used vinegar and bicarbonate of soda.
Have a look at the following video to see how we got on!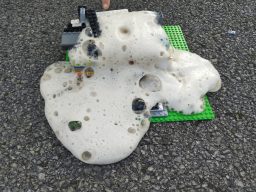 Back