Last Week of 3rd Class 2020 – Ms Walshe's Class
Dear Parents and Children
It is hard to believe we have gotten to the end of the school year! I have had the best year getting to know all the children in my class this year. We have built some lovely memories from going on nature walks, making dried flower art, learning to swim, performing in our Christmas concert, carrying out science experiments and writing our own rap! We took part in a lovely drama workshop with Zara, we learned how to play tag rugby, hurling and we got to be the first 3rd class to play on our new climbing frame!
There are lots more memories that all of you will have and I'd love to hear some of them this week!
For homework this week – there isn't too much 🙂 It will be a fun week with Active School's Week and you will be sent a variety of fun activities to complete at home with your family – please send pics! Don't forget there are 3 competitions this week that you might like to try at home! Tomorrow we are off to The Netherlands for our Virtual School Tour. the lovely Ms Harding organised this so I am saying a huge thanks to her! You can find it under 3rd Class – Netherlands! Have fun and can't wait to hear all that you have learned!
This week, I will be uploading lots of class memories to Class Dojo so keep an eye for lots of good work, photos and memories from the year!
A big, big thank you to the children and families I worked with this year! It was a fun year and I can't wait to see you all in September, even though you will be in 4th class you will be on the same corridor as me so I am happy I will get to see all your lovely faces!
Ms Walshe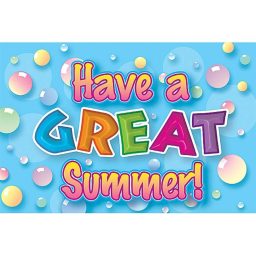 Back