Christmas Tree and Display 2020
Thanks so much to everyone who contributed to this year's Christmas Tree. Thanks particularly to the children who drove this project. Thanks also for the contributions made by parents, grandparents and friends of Ennis National School.
So much work was sent in that we have a larger Christmas display. The tree may be seen in Insomnia's window in Tesco s shopping centre. I would like to take this opertunity to thank Viv at Insomnia for allowing us to have the opportunity to showcase the work to all of the people who took part.
An early Happy Christmas from all at Ennis National School. ?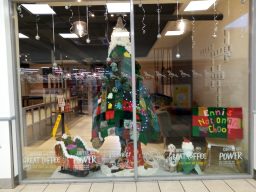 Back