RTE camera crew visits our class.
One of our favourite young peoples' programmes on tv is the tRTE News (that's teenage RTE!!). We watch it every day in school while we eat our Sos. It's full of news for and about young people in Ireland. Our teacher decided that we should not just watch this programme – we should contribute to it. So we let them know about our fundraiser for Bumbleance and asked if they'd be interested in featuring our story. They emailed back and said they would!
So on Wednesday, Feb. 7th, the day the Bumbleance visited our school, TV presenter Tommy Meskill and cameraman Paschal Brooks came to the school to film the occasion and interview Reading Class pupils. Firstly, they filmed us presenting our cheque for E1,060 to Jim Burke, the Bumbleance driver. Then we all went up to our classroom so that pupils could be interviewed.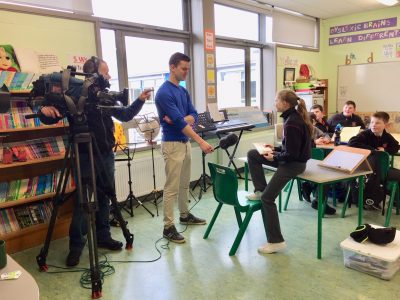 First of all, they interviewed Ciara as her brother Dean had travelled in the Bumbleance during the Christmas holidays. Ciara did a great job of talking about her brother and about the Bumbleance. She had some lovely photos to show as well. Then Tommy interviewed Ben, Éabha and Jake as well as Mrs. de Buitléir. They spoke well too but unfortunately their footage was not included in the final cut. After that they filmed us all making hot chocolate and pushing the hot chocolate trolley along the corridor. We had to repeat things three or four times so that they could get lots of different angles for the camerawork.
We visited @ennisns in Clare where a group of students have been raising money for the children's ambulance service, @BUMBLEance. pic.twitter.com/pNRp4cROe7

— RTÉ news2day (@news2dayRTE) February 8, 2018
https://www.rte.ie/news/player/news2day/
Everyone in our school was very proud the following day, Thursday, February 8th, when the piece was aired on RTE2. Our parents and families were very pleased as well. We learned a lot that day about filming. The camera crew spent a lot of time setting up shots and scenes and the presenter recorded lots of interview. However, the finished piece was just under 3 minutes long. Working in television is a fast-paced job – you have to record and edit your piece in time for the News that evening or the next day. There is no time for sitting back ! It was fun to be part of it for a day.
Back